Team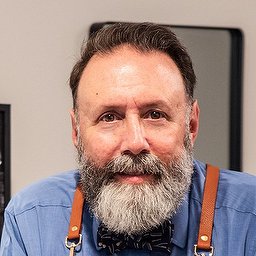 Richard
Barber
I moved to Los Angeles shortly after graduating from high school in 1981 with the single objective of becoming a rock star. I began training as a professional hairstylist under the supervision of my cousin, famed Beverly Hills hairstylist Allen Edwards (Julianne Moore, Renee Zellweger, Laura Flynn Boyle, Donna Mills, Raquel Welch). With steadfast ambition to pursue my musical endeavors, I left the salon some six months later. Today, after four decades and a rewarding 25-year career as an educator, writer and father of five, I have returned to the timeless art of classic gentleman's barbering.
Following a six-month apprenticeship under Master barber Sam Aydani of Benoah Barbers in The Hague, I created THE NIGHT BARBER concept, a unique barbering experience offering exclusive evening and late night hours catering to 9-to-5ers, students and business travelers.
From Benoah Barbers on The Hague's emblematic Noordeinde street in the heart of the Royal Shopping Quarter, the Night Barber popped up in the epicenter of The Hague's vibrant Hofkwartier nightlife district on the Oude Molstraat during the summer of 2018.
In September 2018, the Night Barber set up shop at Domo Eclectica at Annastraat 11, an extraordinary gallery space featuring an eclectic assortment of the finest handmade, homemade and antique wares created by artisans from all corners of the world.
From March 1st 2019 until March 2021, The Night Barber was based at the Rahula Hair & Lifestyle concept located in the heart of The Hague at Spui 263.
Today, The Night Barber is part of the WI Kappers Collective in the vibrant Zeeheldenkwartier neighborhood and provides the ultimate gentleman's barbering experience featuring classic haircuts, a wonderfully luxurious lemon, eucalyptus, steam and oil straight razor or bladeless foil shave and meticulous beard maintenance for facial hair of any style. The Night Barber will expand to the Collective's Amsterdam location beginning in the summer of 2021.